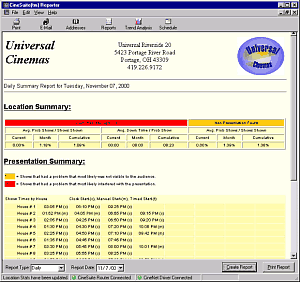 CineSuiteTM Reporter is a information system made possible by recent advances with our CineNet line of theatre automations. Reports are produced on a daily/weekly/monthly/quarterly basis providing current information on the quality of show presentations for a theatre and can be sent via e-mail to managers and other designated personnel. By providing detailed information on show presentations, CineSuite Reporter provides the corporation and its individual theatres with a valuable tool to help identify equipment and training deficiencies.
The Daily Summary Report provides information for the start times for all shows, problems associated with any show and any maintenance performed for a theatre. A summary section at the top of the report provides a quick indication of current performance to a theatre's 30-day running and cumulative averages.
Any show that had a presentation problem is shown in detail. The auditorium number, the start and end times, start mode, learn mode, sync mode and all show events are shown for these shows. To help explain different show interruptions user codes may be entered through the CNA-200 Automation or with our new CineSuite software by the operator, manager or technician. Codes to track maintenance performed on any booth equipment may also be entered this way.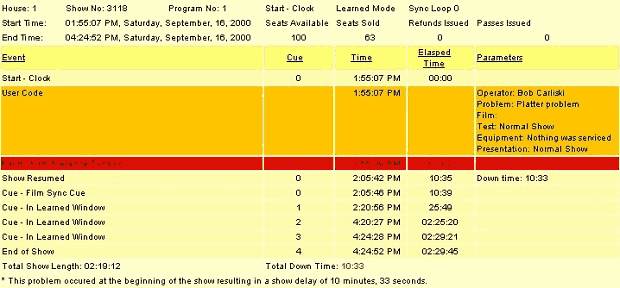 Example of a problem show.
The Weekly Summary Report provides a summary of all presentations for a location or group of locations. A comparison of this week's performance is made to the previous week and to the cumulative average.

Example of the Location Summary section of the Weekly Report.
The number of problem shows and the amount of downtime is graphically displayed by house and by the day of week. This can help management to identify problem areas for a location.

Example of the Problems by Day section of the Weekly Report.
Show problems are divided into two categories. The first category is Customer Interruptions. These are shows that had at least one presentation interruption that was visible to the audience. On the reports Customer Interruptions problem shows are displayed in red. The second category is Non-Presentation Faults. On the reports these are displayed in orange. These are shows that may have been too short in length to be real shows, shows that had a problem before the dowser opened up or shows where all the down time came at the end of the presentation. A show that has a problem, such as a miss-thread, that is discovered before the dowser opens is reported as a Non-Presentation Faults show unless it results in a show delay of more than five minutes. If the delay is more than five minutes then it is reclassified as a Customer Interruptions type problem.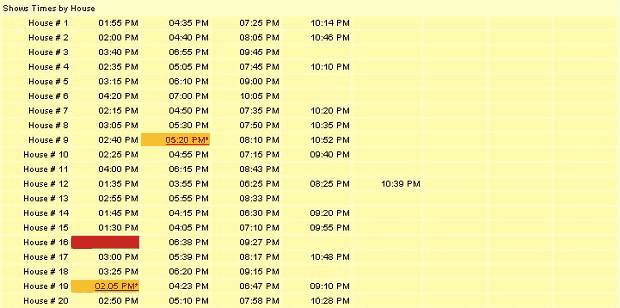 Example of the Presentation Summary Section of the Daily Report.
Currently, the CineSuiteTM Reporter also supports a Monthly Report and a Quarterly Report.