CineSuiteTM is an enterprise wide software solution for the cinema industry. CineSuite consist of a number of separate modules that provide different functions for the theatre environment. These modules communicate via the Internet standard TCP/IP protocol. CineSuite applications can communicate with each other on a single computer, across a local network, by modem to modem using "Dial-Up Server" or over the Internet.
The CineSuiteTM Remote Monitor provides real time remote status of all the CNA Automations on the network. Different locations can be monitored at the same time. The Remote Monitor display can be easily customized as the user wishes.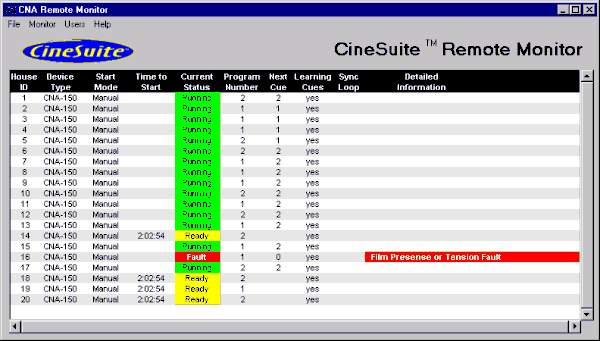 The CineSuiteTM Program Editor allows you to setup and program CNATM Automations quickly and easily. Once programs and supervisory data are created, it becomes a simple task to copy, edit, backup or restore to or from any CNA Automation.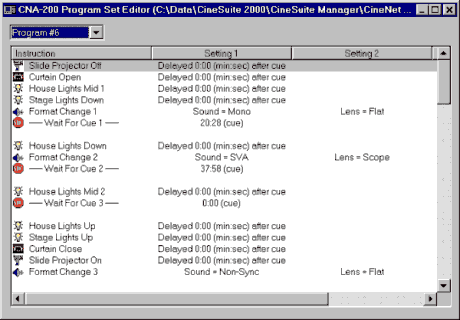 The CineSuiteTM Show Schedule editor is used to edit and create show start times for use by the CNA-200 clock start mode. The Show Schedule can also be saved to the CNA-100 and CNA-150 automations but the information will only be used for display of the show information on the CNA Monitors.

The CineSuiteTM Facility Show Schedule editor allows you to see and edit the schedules for all the auditoriums at once. Schedules can easily be copied between houses.