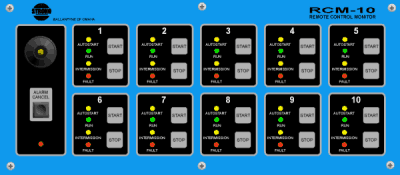 The RCM-10TM and RSM-10TM are microcomputer-controlled remote monitors designed to display the status of all the projection booths in a cinema multiplex. The monitors are wired to the CNA automation systems' Local Synchronous Network (LSN) and can be located in various places throughout the building such as the projection booth, managers' office and candy counter to provide the personnel with a real time account of each movie house.
The RCM-10 and the RSM-10 monitors feature four LEDs for displaying the status of each projection booth. Indicated are 'ready to run', projector running, timed or clock start mode, fault and intermission. Each unit is equipped with a sonic alarm and an alarm cancel switch. The RCM-10 monitor is different in that it features start and stop capability for each station.
The remote monitors are connected to the CNA automations via the 2-wire synchronous data bus in a daisy-chain configuration. This eliminates the laborious wiring required by the conventional remote stations often needing hundreds of wires and terminations.
Installation & Operation Manuals