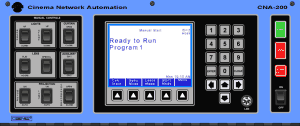 The CNA-200 is a state-of-the-art microprocessor-based automation system featuring user-friendly controls employing common theatre-industry terms and language for programming. The CNA-200 features a large LCD Display Screen for extended local programming capabilities, Network event information and other functions. These include Cue Learn, clock and timer start functions and more. The CNA-200 has full network capabilities with the automation and remote systems communicating through a two-wire RS-485 Serial Link Cable called the Local Synchronous Network (LSN). The CNA-200 is accessible via a laptop or home-based PC for direct programming and monitoring. Other features are:
Large back-lit LCD display for a user friendly interface in setup and programming. In normal operation, local system status is displayed as well as network fault messages.
Convenient manual override control switches are directly wired to the console termination panel via a quick connect harness.
Stores up to nine custom programs with each program containing up to 99 lines of instructions and up to 20 cues.
Custom programming for your theatre needs and supervisory mode for customizing system parameters.
Ten clock start times with time delay start.
Cue Learn feature.
Synchronous operation for up to 20 independent loops simultaneously.
Local and network copying for programs, clock start times, and system parameters (network only).
LSN and LIN Status displays status and diagnostic information of the network.
Duel Voltages.
Available in console, rack or wall mount versions.
Status LEDs for main CPU board displaying power, LSN and LIN status.
Password protection capability..
The CineNetTM Gateway card or the VNC (Versatile Network Controller) provides an interface between the LSN network and a PC. This allows access to the CNA Automations with either CineNet Host or CineSuite software. CineSuite gives the ability to remotely access, program and monitor the CNA automation, update the CNA operating system, backup/copy programs and settings, access diagnostic information, view show information/history and produce summary reports.