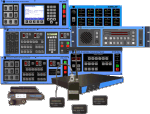 Established in 1946, EPRAD has a long history of being a major manufacturer for the Motion Picture Theatre Industry. From the legendary SWORD (Show Without Rewind Device) to our current state-of-the-art line of CineNet™ Theatre Automation systems, EPRAD has been the leader in developing innovative products. As the cinema industry changes and evolves we are dedicated to this tradition of providing high quality products and inventive solutions.
Currently our product line includes:
Automation Systems: Our CineNet™ line of automations are state-of-the-art microprocessor-based automation systems, designed to automate all aspects of the theatre presentation.
CineSuite™ Software: Remote access, remote monitoring, data acquisition, report generation. CineSuite software enhances the abilities of all CineNet™ products.
Facility Paging Systems: The CineNet™ Paging System automatically sends messages to one or more pagers alerting key personnel that a show has gone down.
Film Monitors: Solid-state cue detector and failsafes.
Light Control Systems: Stand alone and CineNet™ compatible systems.
Remote Monitors: Hardware and software based automation monitors.
Sound Monitors: In booth processor / amplifier sound monitors.